3) Acromioclavicular Joint (AC) Injuries
Acromioclavicular (AC) joint injury is a term used to describe an injury to the top of the shoulder, where the front of the shoulder blade (acromion) attaches to the collarbone (clavicle). It can be caused by a traumatic event, such as a fall directly on the outside of the shoulder, or by repetitive overuse. AC joint injuries are most common in individuals younger than 35 years of age, with males sustaining 5 times more traumatic AC joint injuries than females. Because younger athletes are most likely to participate in high-risk and collision activities, such as football, biking, snow sports, hockey, and rugby traumatic AC joint injuries occur most often in this population. AC joint injuries can be identified and effectively treated by a physical therapist, often avoiding the need for surgery.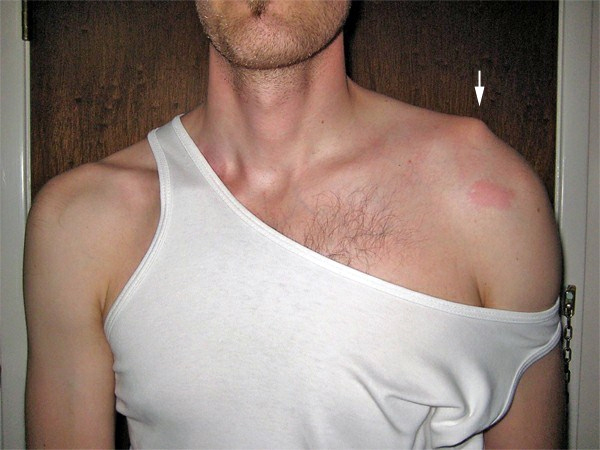 What are Acromicioclavicular (AC) Joint Injuries?
There are 4 ligaments holding the 2 bones of the AC joint (the acromion and the clavicle) together. When an AC joint injury occurs, these ligaments are stressed, resulting in some degree of joint separation. There are 2 types of injuries that can occur at the AC joint: traumatic and overuse injuries.

A traumatic AC joint injury occurs when there is a disruption of the joint due to damaged ligaments holding the 2 bones of the joint together. This injury is called a shoulder separation (in contrast to a shoulder dislocation, it involves the ball-and-socket joint of the shoulder).

Traumatic AC joint injuries are most common in individuals who sustain a fall and land on the outside of the shoulder or onto a hand (eg, a football player who is tackled, a bicyclist who crashes, or a manual laborer who falls off a ladder.
How does it feel?
With an AC joint injury, you may experience:

• General shoulder pain and swelling
• Swelling and tenderness over the AC joint
• Loss of shoulder strength
• A visible bump above the shoulder
• Pain when lying on the involved side
• Loss of shoulder motion
• A popping sound or catching sensation with movement of the shoulder
• Discomfort with daily activities that stress the AC joint, like lifting objects overhead, reaching across your body, or carrying heavy objects at your side.
How Is It Diagnosed?
Diagnosis of an AC joint injury starts with a thorough review of the patient's medical history, including specific questions regarding when the pain began, and what aggravates and relieves the pain.

Your physical therapist will examine your shoulder and assess different measures, such as sensation, motion, strength, flexibility, tenderness, and swelling. Your physical therapist will perform several tests specific to the shoulder joint to examine the structures located there. The therapist may also ask you to briefly demonstrate the activities or positions that cause your pain. Other nearby areas, such as your neck and upper back will also be examined to determine whether they, too, might be contributing to your shoulder condition.

While an AC joint injury can usually be identified through a shoulder examination, diagnostic imaging, such as ultrasound, x-ray, or MRI is often used to confirm the diagnosis and determine the severity of the injury.